OVERVIEW
PromisDx is focused on validating our proprietary cancer assay via clinical research studies and plan on launching the cancer diagnostic service in 2021, then expanding to new products and indications. Utilizing a proprietary marker with LTE-qMSP platform, PromisDx builds its pipeline of diagnostic products for the early detection of other cancers.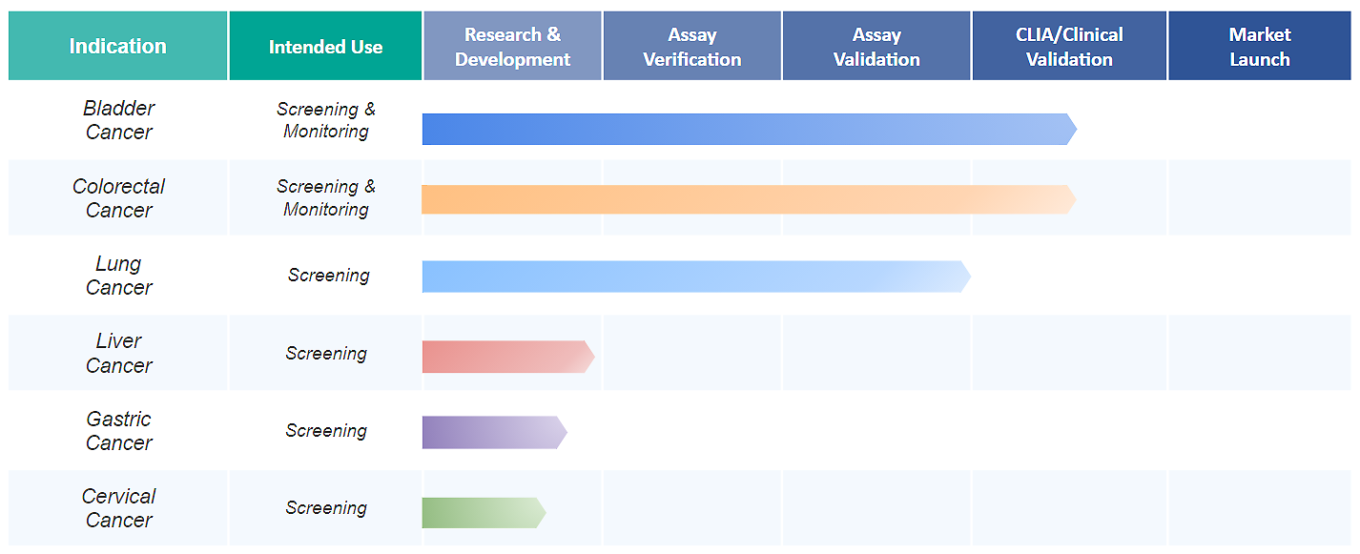 Colon cancer test is a stool-based test for the screening and diagnosis of cancer. The assay is designed to an easy, accurate and affordable test for early colorectal cancer detection. The test detects a methylation of DNA, specific to adenomatous polyps and colon cancer. In a clinical study, stool-based colon test gave an overall sensitivity of 90.2% with a specificity of 90.2%.
Bladder cancer test is a urine test, aimed at early detection of bladder cancer in patients. This test is a non-invasive method to analyze tumor marker in the urine of patients with hematuria to identify patients at low risk and high risk for bladder cancer.
Lung cancer test is a blood test to identify people with a heightened risk of lung cancer for triage into CT scanning. The test is a qualitative detection of epigenetic markers, PCDHGA12, associated with lung cancer in pulmonary nodule patients. It has been proven to be able to diagnose lung cancer with 77.8% sensitivity and specificity of 92.3% in pivotal study on 522 subjects.
* PromisDx products are for Research Use Only in the United States.